It's a game we've all played: pick the five people, living or dead, you'd most want to have dinner with. You could invite celebrities or philosophers, or maybe a deceased relative or friend. The possibilities are endless. In her novel The Dinner List, author Rebecca Serle takes that game a little farther, exploring what would happen if someone's five chosen invitees actually showed up to a dinner party.
When 30-year-old Sabrina arrives at a restaurant to celebrate her birthday, she expects to find her best friend Jessica waiting for her. Instead she opens the door to see Jessica sitting with Audrey Hepburn, her estranged – and now dead – father, her university philosophy professor, and her ex-boyfriend Tobias. What follows is a night of self-discovery and forgiveness, and a final chance for Sabrina to right at least a few of the wrongs in her life.
The Dinner List is a simple, straightforward book. In alternating chapters, Serle tells the full story of Sabrina and Tobias's relationship, breaking it up with scenes from the titular dinner party. Over the course of the evening, Sabrina gets to know her father, who left when she was a child, and her hero Audrey Hepburn. She reminisces with her former professor, and explores the ways in which her relationship with Jessica has become strained. But ultimately she gets the opportunity to replay the relationship that changed her life and figure out where things went wrong.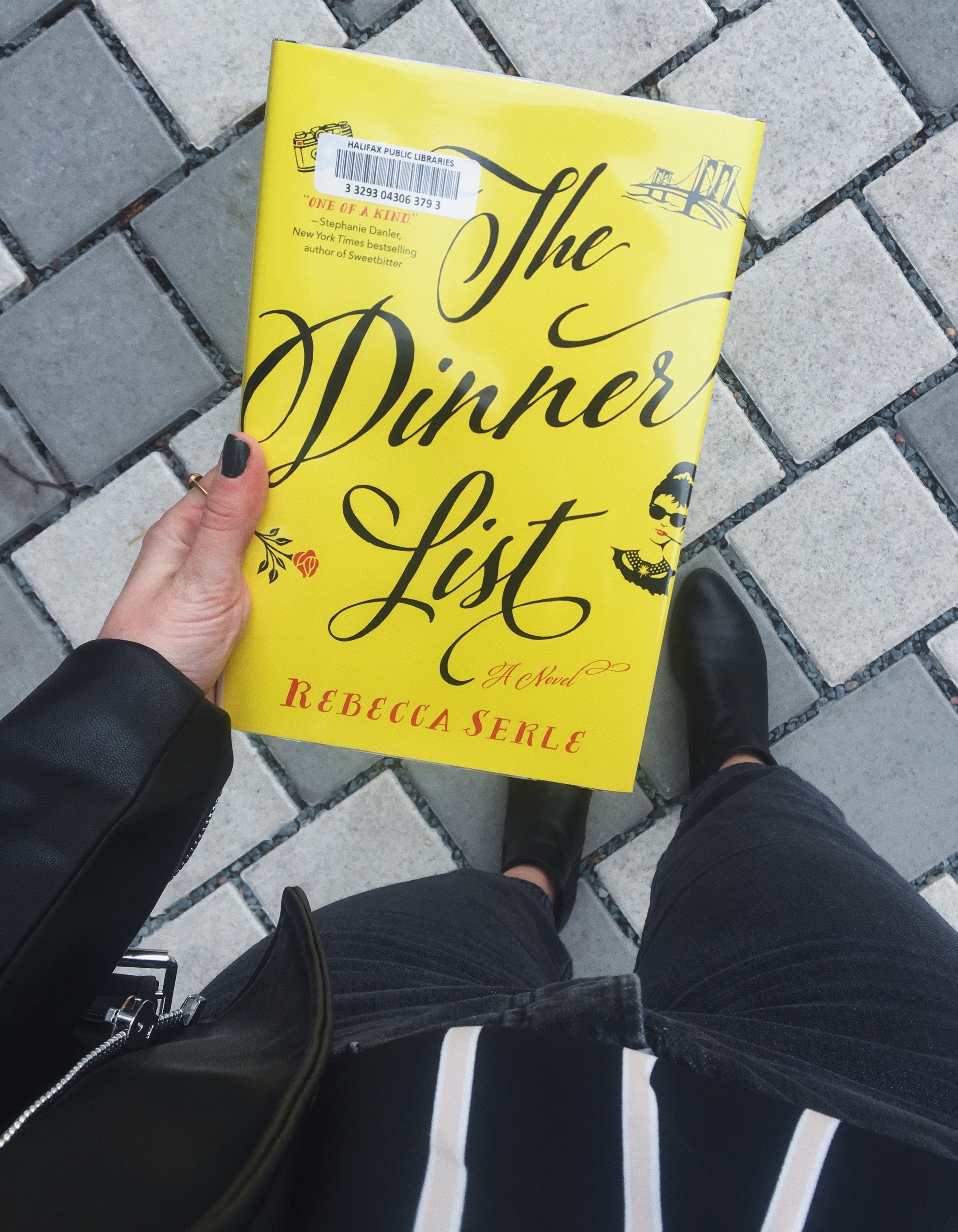 "We've been waiting for an hour." That's what Audrey says. She states it with a little bit of an edge, her words just bordering on cursive. That's the thing I think first. Not: Audrey Hepburn is at my birthday dinner, but Audrey Hepburn is annoyed."
Serle's strength is in her simplicity. There's no flowery prose in The Dinner List, and the story is linear and uncomplicated, easy to follow and quick to read. But it's because the story is so simple that it works so well. There's something for everyone to relate to, whether it be a troubled romance, a strained family relationship, a lost friendship, or work stress. While Serle does describe her characters in some detail, Sabrina feels more like a shell of person, making it easy to slip inside of her shoes and imagine yourself in her place. Her relationship with Tobias is generic in many ways, their fights revolving around the different things they want out of life and the nagging fear that they aren't right for one another.
Serle never really explains how the characters – some of whom are dead – could possibly show up in a New York City restaurant, leaving the reader to their own devices to decide whether or not Sabrina is dreaming or imagining the encounter, or whether she lives in some kind of fantasy world where stuff like this is possible. It can be frustrating and loose-ended at times, but maybe Serle's lack of explanation serves the overall purpose of the story, which, at its core, is about the things in life we can't change or fix.
The Dinner List will surprise you, offering a few twists and turns you genuinely won't see coming. At the end you'll feel drained, fulfilled, and probably a little hopeful.
Published by: Flatiron Books.